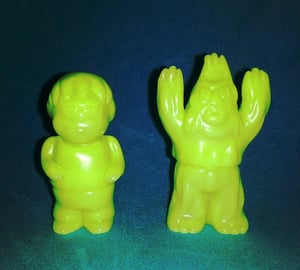 $

20.00
Crafting a spell?
Need help with the undead?
Going to get a burrito?
Now you can take Bobby Beast and Harry Demon in your pocket wherever you go!
For the first time ever, from the deep depths of Japan, comes Bobby Beast & Harry Demon in micro sofubi form!
Casted in "Triple Goddess" GLOW-IN-THE-DARK vinyl!
"Bobby Beast" and characters by Walter Parenton.
Sculpted by Joseph Harmon.
Produced by Rampage Toys.
Made in Japan.